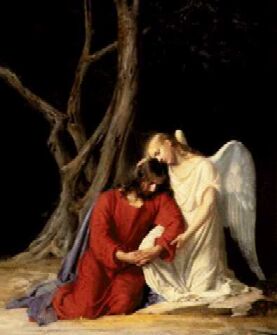 The Agony of the Garden
Today I am distressed by my sins and just want to atone for them and do penance. It is particularly fitting for today because the Church commemorates (at least in the traditional calendar) the
Feast of the Most Precious Blood of Our Lord Jesus Christ.
Father said in his sermon today that the importance of this Feast is to remind us that it is by the shedding of Christ's Blood that we are saved and given Life. His Blood was shed because of my offenses and my weakness; being obstinate in sin, how could I ever hope for Heaven unless the Lord come down to sacrifice Himself for me? When I really think about this, it causes me anguish that I repay God for His bountiful blessings with constant relapses into sin. He gave me life, a family, friends, Catholicism, knowledge of the True Faith, and in return I spit in His Face, offend His goodness, crucify Him with my selfishness and the evils that plague my body and mind. I am not a Christian, much less do I even deserve to invoke His Holy Name in time of trouble... But praise God for His mercy and healing by instituting the Sacrament of Penance.
Moreover,
Jesus Christ
shed His Blood of His own will and it was His desire to do so and a simple reminder of the famous verse of the Evangelist St. John (III, 16) in his Gospel which reads:
For God so loved the world, as to give his only begotten Son; that whosoever believeth in him, may not perish, but may have life everlasting.
These words sum up perfectly why our Lord gave His Life, because He loves us and wants us to be with Him. He doesn't want any of His children to be cast into the eternal abyss of death and woe, Hell, that dark frightening place prepared for Satan and his angels and which is populated (and continues to be so) by those souls who, like me, have turned their backs on God. What is more to think that down there are souls who haven't offended God nearly as much as I have, and that is scary and that makes me feel guilty about my persistence in the hatred of God by sinning against Him.
I just want to turn away now and forever, even at this very moment, from all the wicked that I do and follow Christ. I want to love Him, I want to be like Him, I do not want to be like the heathens of this world and I also want to hate the world, but how? Yes, I've asked for these before and continue to ask for them, but not actively, not with the intention of having my prayer answered at that very moment (if we pray for something, we should be ready to accept that God give it to us right then and there to see if our intentions are pure). That's another sin, praying to God in vain. Who taught me that? Where did I learn that from? Certainly not from my parents...
I keep feeling like I won't be able to live chaste life as long as I remain attracted to males and as long as I feel those attractions, then I will never really be able to cooperate with Grace. Yes, I have received the Sacraments as "worthily" as I could at times, but like my friend told me, I didn't bring a large vessel to the Lord for Him to fill it with His Sanctifying Grace, but rather a small, fragile one which can easily be emptied and broken. But how do I bring Him a larger, durable vessel? Lord, in Thy mercy, please give me one!
What has become of my prayer life? Has life gotten me down that much that I no longer see the use in [lifting] mine eyes to the mountains from which help shall come to me (Psalm CXX, 1)? No wonder... In this state, and as immersed in sin as I am, I should be tiring myself out with prayer. The Saints did. I just read last night about St. Catherine of Genoa who would spend hours upon hours daily in prayer and atoning for the sins of a short time of her life. St. Francis of Assisi and St. Anthony of Padua sought God constantly in prayer. Ste-Therese de Lisieux prayed very passionately yet simplistically to the Blessed Trinity and leaned on God. What am I doing? This is embarrassing even.
What should I do? Have any of you felt this way? What would you tell someone in my shoes? While you ponder this, please pray for me and all those who drown themselves in their sins because only the Grace of God which comes to us through the Blood of Christ can save us. Pray for those who struggle with similar sins as yourselves, form solidarity with them. Pray for those who do not even know Christ or His Holy Gospel because without Faith, no one can be saved. Pray for the Holy Father, His Holiness Pope Benedict XVI as he works to reconcile fallen away brethren with the Church again, and definitely pray for the Suffering Souls in Purgatory as they cry out to God for mercy.